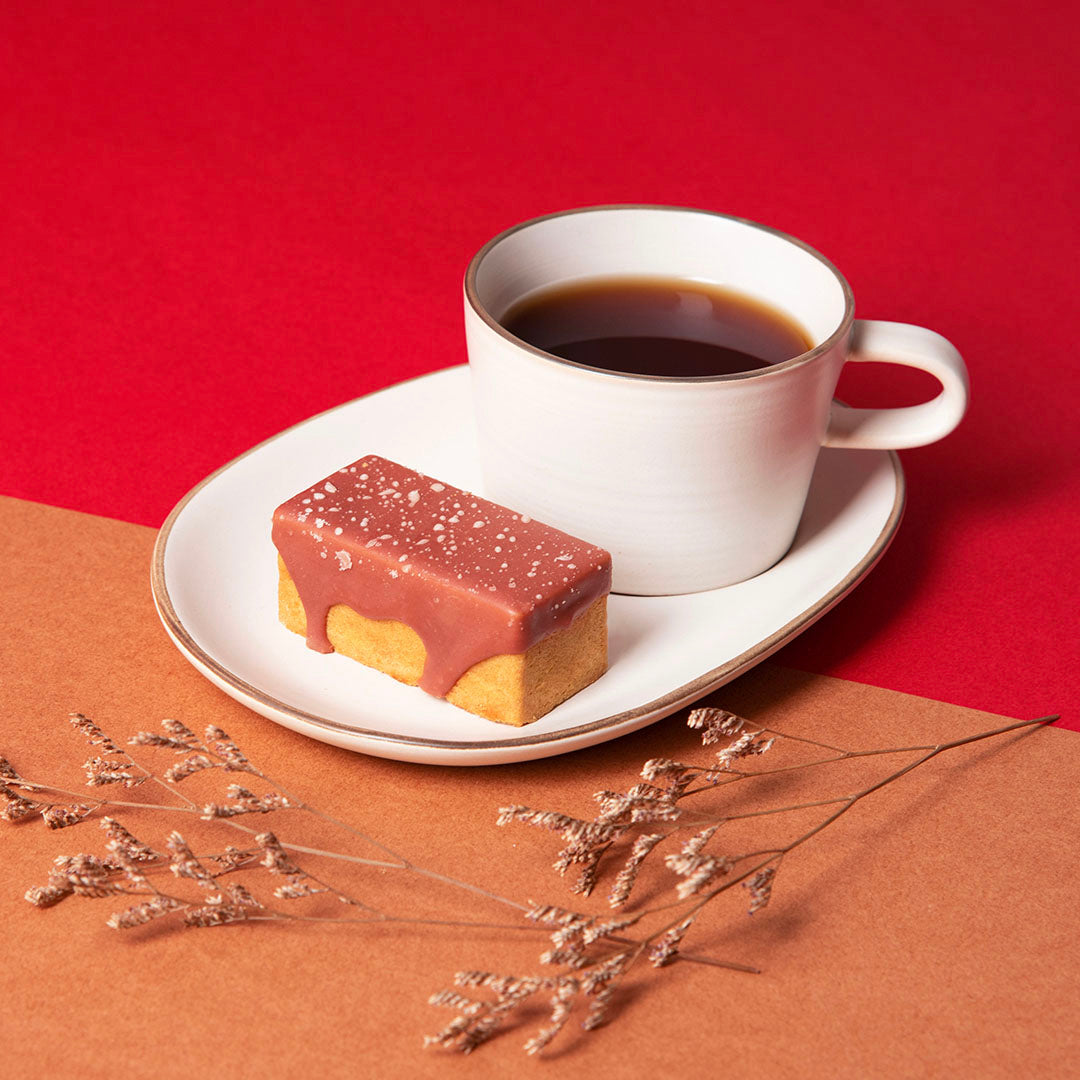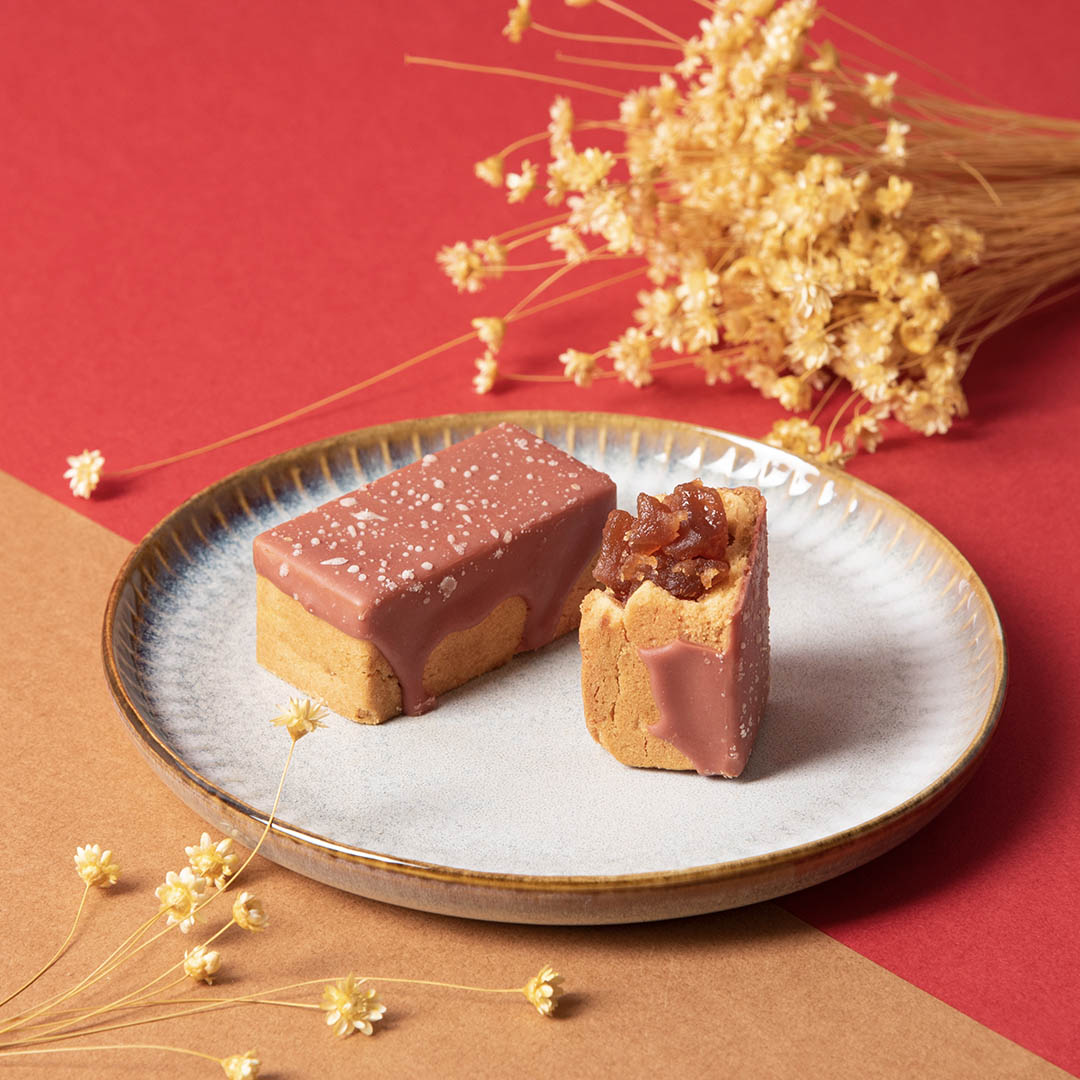 Strawberry Apple Cake + Coffee or Tea (Mother's Day Gift Bundle)
Note: Item is only suitable for store pick up or "same-day" delivery on selected date.
This gift bundle consists of 1 box of Coffee No. 5 or Oolong Tea (6 drip-bags), 1 box of Strawberry Apple Cake (6pcs), 1 bag & 1 Mother's Day greeting card. 
Indulge in our Kougyoku Apple Cakes glazed with Varlhona's INSPIRATION Strawberry couverture, topped off with a tinge of lemon icing.

Every bite of the sweet and citrusy taste evokes the bright colors of Spring flowers, adding a twist to the delectable Kougyoku Apple fillings.

Back in stores for a limited time, check out our new Strawberry Apple Cake now for a playful taste of sunshine!
Coffee No. 5 is light-bodied and leaves a long lingering fruity note that accentuates the butter and fruit flavours of our Sunny delights for an elevated savoury experience.
Conveniently packed in a drip bag, enjoy a perfect brew to soothe travel bugs or for a relaxing weekend at home. Makes a much-needed boost at work when paired with our cakes.
Ingredients: Apple, Flour, Butter, Sugar, Strawberry Cocoa Butter, Eggs, Condensed Milk, Milk Powder, Cheese Powder, Water, Sugar Powder, Lemon Juice, Salt
Serving Size: 45g (each piece)
Nutrition Information (per serving): Calories 178kcal, Protein 1.6g, Total Fat 5.5g (Saturated Fat 3.1g, Trans Fat 0.0g), Total Carbohydrate 31.3g (Dietary Fiber 0.9g, Suger 12.4g), Sodium 32mg
Product contains gluten (wheat flour), eggs, dairy products and sunflower lecithin.
Best Before : min 2 weeks
This product contains cocoa butter. Please store cakes in a cool (below 30 deg) and dry place away from direct sunlight
Delivery may be delayed due to peak seasons (festive and double digit sales days), bad weather, traffic conditions or other unforeseen circumstances.
Free Delivery (to 1 location, Singapore only) for any single order higher than SG$150.
For overseas delivery, please note that additional custom duties and other local charges may apply upon arrival. Please check destination country's regulations.
Are there strawberries in the product?
The strawberries are freeze-dried into powder and used in the manufacture of the chocolate coating. There is no strawberry in the fillings.
Where are the strawberries from?
The strawberries are not from a single region. Valrhona sourced them from Poland, Morocco, Tunisia, Egypt & North Africa.

Why is the color so vibrant if there are no artificial additives or colouring?
The strawberry couverture (chocolate) is developed using Valrhona's R&D expertise. The crystalline component of cocoa butter is stabilised to give it a natural gloss. This can only be achieved with cocoa of high enough purity.

Can I toast the Strawberry Apple Cake?
We do not recommend toasting it as the strawberry couverture (chocolate) will melt.

Will the Strawberry Couverture (chocolate) melt before I reach home?
It will start to melt at around 30 degrees. Try not to avoid exposing it to heat while on the way home. It should be fine in air-conditioned places.
Share