OUR BEGINNINGS
SunnyHills story begins in the sunny and rugged countryside of Bagua Mountain (八卦山) in central Taiwan.

Set up in 2008 in Nantou, Taiwan, SunnyHills is a specialty bakery offering authentic and fresh pineapple cakes that are traditionally sourced, made, and baked in Taiwan.

Committed to only using all-natural and fresh ingredients, SunnyHills operates not just as a bakery or a shop, but also as a farm that supplies its own pineapples, making it a true Farm-Bakery-Store concept.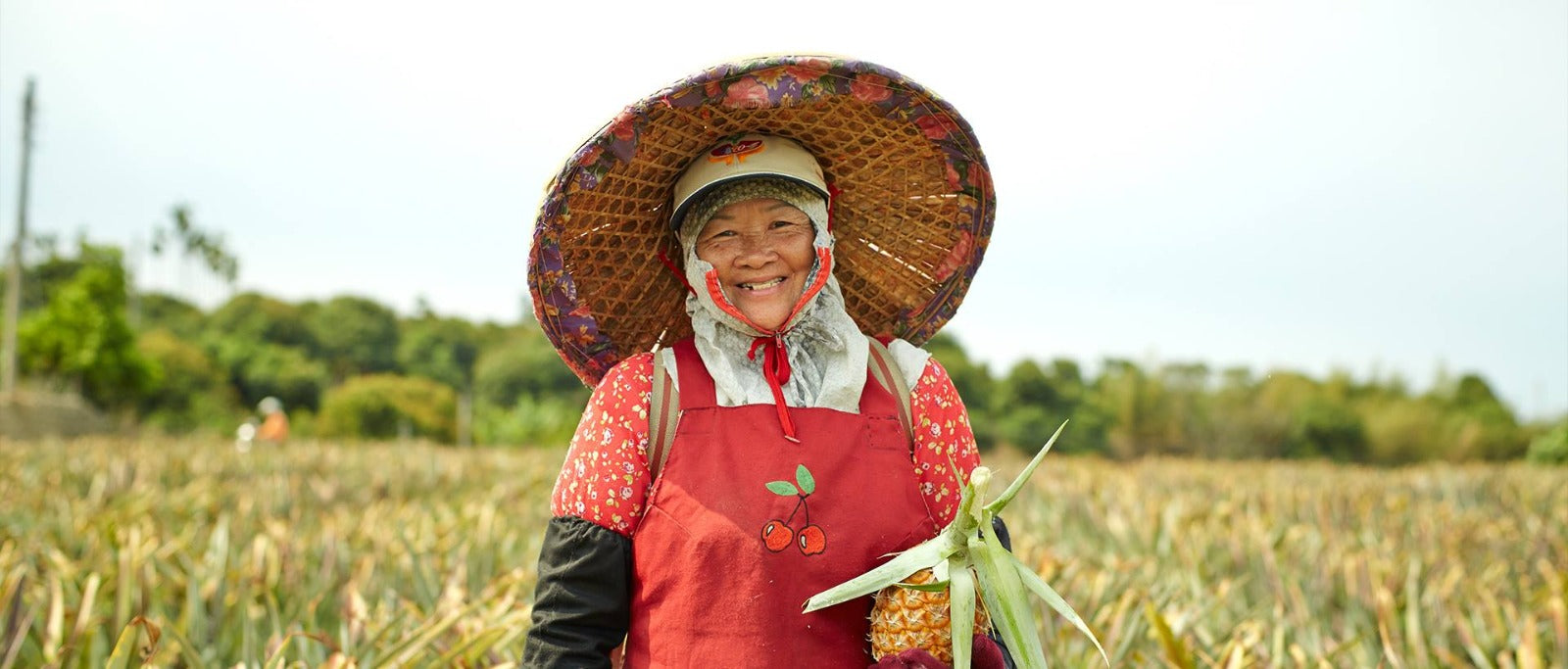 ALL ABOUT THE FARMERS
In principle, SunnyHills is a proponent of what is known as the Slow Food Movement – focused on a return to sources and a sensitive approach towards farming practices.

SunnyHills believes in giving back to its land and people through responsible farming and fair-trade practices. Through all of its agricultural and business operations, it employs local villagers and farmers on the estate.

On top of its own pineapple farm, SunnyHills works with 800 small family farms in the region. All pineapples used by SunnyHills are sent to the laboratory to ensure they are pesticide-free.
GROWN NATURALLY AND ORGANICALLY
Even if each pineapple takes 18 months to reach full maturity, and can only be used to make 5 pineapple cakes, SunnyHills believes in letting nature take its course, allowing the fruit to mature naturally. The company does not promote the use of growth hormones, but trusts in life's greatest resource, the Sun, to ripen the pineapples.

A sustainable farming practice also ensures that crops remain healthy and bountiful in each new cycle.
Over 60 years of professional baking
Our bakery is helmed by a master baker dedicated to perfecting the pineapple cake recipe so you can savour every bite.

We also work with award-winning chefs to create special recipes. From FORBIDDEN Durian recipes specially created by award-winning pastry chef Danny Ho (aka China's Durian Prince), to collaboration with world renown master baker and judge, Kanjiro Mochizuki to develop our Apple Cakes' secret curing process, every bite you take gives you the best taste experience.
Individually sealed for optimum freshness
All our products are individually sealed for guaranteed freshness. A customised washi paper is used to seal out oxygen, humidity & almost air molecules to seal in the the goodness from all the premium ingredients used.

The individual pack makes our pineapple cake tarts convenient to be carried around as a snack, and also for sharing with your family and friends.