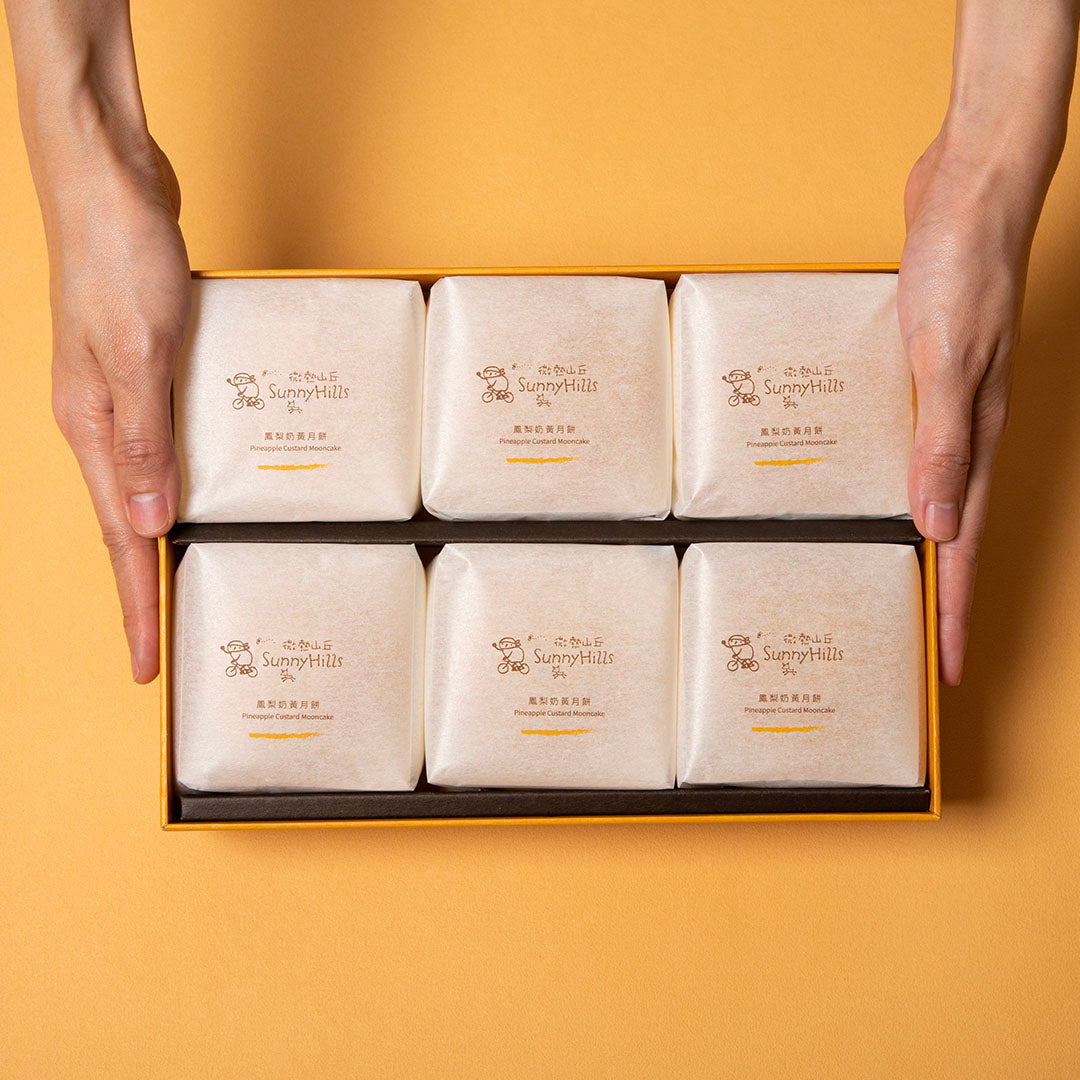 Pineapple Custard Mooncake - 6pcs
Note: Our baked mooncakes are not halal-certified. Our durian mooncakes are halal-certified.
Best-Before: 8 Oct or later
Looking for a mooncake that people will actually want to finish?
SunnyHills' classic interpretation of Mooncake 2.0 combines Taiwan Native Pineapples with salted eggs made into custard to balance the sweet and savory taste which is so distinctive of traditional Mid-Autumn flavors, but with only 65% lesser calories as compared to traditional mooncakes.
The finely crafted Pineapple Flower motif symbolizes the prosperous harvest of pineapple blossoms, representing the heartfelt blessings of abundance to the receiver.
True to SunnyHills 'Honest-to-Goodness' philosophy, no artificial additives or preservatives were used & all ingredients sourced directly from farmers.

A gift that will impress even the most discerning.
Calories: 282 kcal per serving
Special rates available for orders above $1,500. Please contact hello@sunnyhills.com.sg to find out more
Pineapple Custard Mooncake: Pineapple Filling (Pineapple Jam, Sugar, Maltose, Salt), Sword Beans, Sugar, Eggs, Mung Beans, Salted Egg Yolk, Whipping Cream, Butter, Condensed Milk, Glutinous Rice Flour, Water, Flour, Soybean Oil, Corn Starch, Glucose, Rice Wine, Salt.
Kougyoku Apple Sweet Potato Mooncake: Sword Beans, Apple Filling (Apple, Sugar, Lemon), Sweet Potato, Sugar, Eggs, Water, Maltose, Whipping Cream, Glutinous Rice Flour, Butter, Trehalose, Salted Egg Yolk, Flour, Soybean Oil, Salt, Rice Wine
Serving Size: 84g (each piece)
Product contains eggs, dairy, gluten (wheat flour) and soybean
Per Serving:
Pineapple Custard Mooncake: Calories 282kcal, Protein 5.7g, Total Fat 9.1g (Saturated Fat 3.4g, Trans Fat 0.0g), Total Carbohydrate 46.4g (Dietary Fiber 2.2g, Suger 26.5g), Sodium 110mg
Kougyoku Apple Mooncakes: Calories 263kcal, Protein 4.9g, Total Fat 6.3g (Saturated Fat 2.1g, Trans Fat 0.0g), Total Carbohydrate 49.5g (Dietary Fiber 2.9g, Suger 24.0g), Sodium 79mg
Best Before : min 2 weeks
Please store cakes in a cool and dry place away from direct sunlight
Delivery may be delayed due to peak seasons (festive and double digit sales days), bad weather, traffic conditions or other unforeseen circumstances.
Free Delivery (to 1 location, Singapore only) for any single order higher than SG$150.
For overseas delivery, please note that additional custom duties and other local charges may apply upon arrival. Please check destination country's regulations.
Share