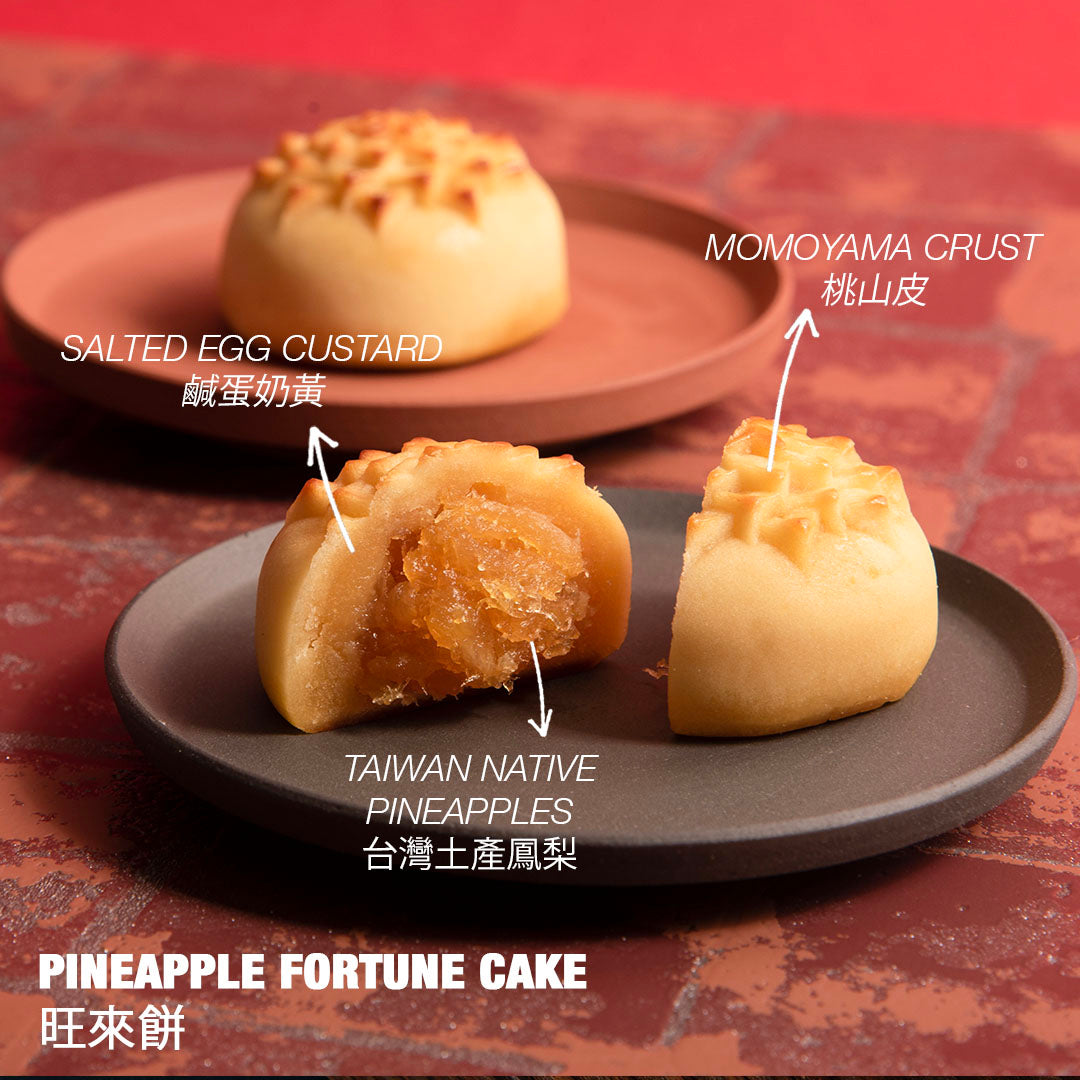 Pineapple Fortune Cake (3pcs) - Best-Before: 8 Feb
FLASH DEAL: BUY 2 OR MORE TO ENJOY 50% OFF. USE CODE HUAT2023 AT CHECKOUT.
Best Before: 8 Feb

The pineapple flower motif symbolises the bountiful harvest of pineapples, a gift bearing well wishes of abundance.
Made with our hallmark non-GM pineapples, encased within a layer of salted egg made into a custard. A delightful twist to everyone's favourite pineapple tart!
Inspired by the pineapple flower, a symbol of blessings the CNY festivities bring. Creating this motif and flavour challenged years of baking expertise and the use of new technology. SunnyHills Pineapple Fortune Cake slowly emerged, honouring old traditions and creating new ones. True to SunnyHills 'Honest-to-Goodness' philosophy, no artificial additives or preservatives were used & all ingredients sourced directly from our farmers. 
No Artificial Additives
Our cakes are made with all-natural ingredients. No artificial additives or preservatives are used.

Individually Wrapped
Each cake is wrapped in a customized washi paper that seals out oxygen, humidity & almost all air molecules to seal in the goodness from all the premium ingredients used. 

Special rates available for orders above $1,500. Please contact hello@sunnyhills.com.sg to find out more
Pineapple Fortune Cake: Pineapple Fillings (Pineapple, Sugar, Maltose, Salt), Sword Beans, Sugar, Eggs, Mung Beans, Salted Egg Yolk, Whipping Cream, Butter, Maltose, Condensed Milk, Glutinous Rice Flour, Water, Flour, Soybean Oil, Milk Powder, Corn Starch, Glucose, Rice Wine, Salt
Apple Ping An Cake: Sword Beans, Apple Fillings (Apple, Sugar, Lemon), Sweet Potato, Sugar, Eggs, Glutinous Rice Flour, Water, Maltose, Whipping Cream, Trehalose, Butter, Flour, Soybean Oil, Salted Egg Yolk, Salt, Rice Wine
Product contains milk, cereals containing gluten, egg, soybean and their product.
This product is not halal-certified
Serving Size: 46g (each piece)
Pineapple Fortune Cake (per serving): Calories 148kcal, Protein 3.2g, Total Fat 4.4g (Saturated Fat 1.7g, Trans Fat 0.0g), Total Carbohydrate 25.4g (Dietary Fiber 1.5g, Suger 12.8g), Sodium 58mg
Apple Ping An Cake (per serving): Calories 132kcal, Protein 2.3g, Total Fat 2.3g (Saturated Fat 0.8g, Trans Fat 0.0g), Total Carbohydrate 27.1g (Dietary Fiber 1.7g, Suger 16.2g), Sodium 48mg
Please store cakes in a cool and dry place away from direct sunlight
Delivery may be delayed due to peak seasons (festive and double digit sales days), bad weather, traffic conditions or other unforeseen circumstances.Free Delivery (to 1 location, Singapore only) for any single order higher than SG$150.For overseas delivery, please note that additional custom duties and other local charges may apply upon arrival. Please check destination country's regulations.
Share